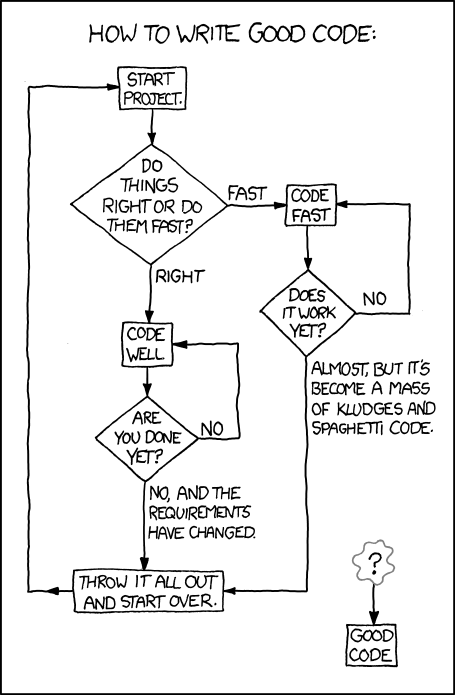 Hard to believe its October already, and in Scotland, we've jumped through all 4 seasons in the space of a week.
Today it felt like we were in the depths of winter, but I remember last Thursday sitting outside eating lunch!
Anyway sometimes it feels like that with software development. One moment you're feeling great about it, the next you feel like its so slow and the limitations are so bad you may as well start again!
Well Phil had a bit of an epiphany about a month ago, and realised that for us to get to where we're headed, we were going to have to make some pretty big changes to the way we're currently doing things.
One of the driving forces behind building Float is to eliminate the need for spreadsheets. So we've always aspired to give the same ability to click into cells, and quickly interact with your data, but to give a lot more automatic pre-calculated information than you'd get if you'd built the spreadsheet yourself.
But doing all of those calculations was taking a huge hit on the speed of the application, and thinking about scaling, we just didn't feel happy with the current performance. Also making improvements was taking a lot more time we wanted to.
So we started to think about what if we were able to make a lot more use of the browser and do a lot more of the work in javascript, rather than constantly hitting the server. Well, all I can say that after a few weeks of exploring this concept, the improvements are pretty staggering. Not only that, but we're able to do so much more.
So where does that leave us?
Well we're just about ready to start properly testing the new version, and looking more intensively at the user experience, and interface.
What are the benefits of the new system?
Apart from the speed and performance of the new system, we're looking at 3 new areas: Budgets, Reports and Projects.
But I'll leave those for another blog post! The other things of note, are that we're making it much easier to change, include or exclude, and delete projections from your forecast. All this makes it much easier to speculate scenarios, and explore possiblities quickly.
We're also desperately holding out for the release of the new FreeAgent API 2.0 which we're are supposed to be getting some beta access to "really soon". This is going to open up a lot of possibilities for Float, and we're already excitedly planning those features, so we can roll them out as soon as possible.
Keep and eye on our tweets and blogs for info about the launch.
And as always we've hugely appreciated the early adopters out there who have sent in amazing feedback. The
founders club 100 spots
are filling up really nicely, and we're feeling the love so thanks!
Colin